Entering Reid's Deli in Mableton, there is a smile on his face, the smile that never seems to fade away. His hair is pulled
back into a perfect ponytail and his snug leather jacket is removed and placed on the booth where we sit. He is real happy on this day, as the weather is nice enough to enjoy a ride on "Stone Mountain Sweet Marie" his Harley-Davison. A sweet tea is ordered and the first cigarette is lit. Through the cloud of smoke that slowly rises toward the ceiling, I see a tattoo on his left hand wrist: Invictus.
As the interview begins and he starts to reminisce about the band, he cannot help but be interrupted by longtime friends who just smile, say hello, and tell me that, "He is a real good man." JB Walker always wanted to be an entertainer and his dream finally began to come true when at 27, he decided to quit his job as the meat cutter at a Winn-Dixie store. He then bought his first guitar and began to teach himself how to play. He joined forces with some co-workers from the store and they became the original members of the JB Walker and the Cheap Whiskey Band.
Twenty-five years in, and 18 albums later, JB has played all but 10 states and has toured in 72 foreign countries with The Cheap Whiskey Band. As for the name and its origination, it was his old boss at the grocery store that sparked the idea. "My boss would listen to us and say, 'damn, you need a cheap bottle of whiskey in order to listen to you guys,'" he laughs. "Bands change their names so many times. This was our first one and it will never change." When performing with his friends for fun, JB uses an alias, Cleatus BoDean and the White Trash Experience. He says he never uses the band name when he is not performing with the guys. It is his family and they are one.
JB Walker and The Cheap Whiskey Band have donated time to the USO for 22 years, beginning with his first USO tour in Saudi Arabia. He became a member during the first Gulf War. When asked why he performs for the troops, he simply, without hesitation says, "Because it is the right thing to do." He loves playing for the troops overseas. "It's cool. It's everybody. Like bikers, the troops are men and women, lot of variety and it is my honor to do it," JB says. As for the troops, they love it. "Imagine being 10,000 miles away from home. We try to make them feel at home." The band hands out Iron Horse Saloon t-shirts to the troops and tries to give them a show to remember. On one occasion, the band flew in Harley-Davidson motorcycles and had the troops take pictures and sit on them, as they were prohibited from riding them.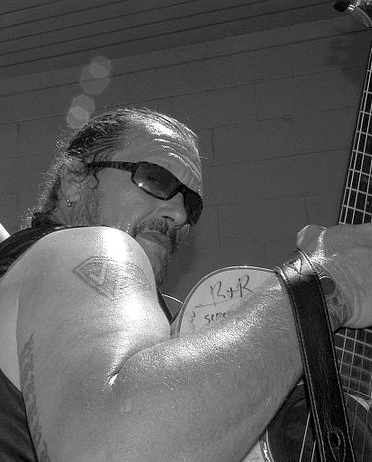 JB enjoys performing for troops, but what he does and does best, is play for bikers and they do it all over the world. "I always wanted to play for bikers. "We started doing it way back when there were no biker bands. Now it is a hip thing, but we were one of the first," he says, as he mentions to me that he once had owned several biker magazines which he eventually sold for a nice profit.
Renee Smith, owner of Reid's Deli, says that he is a great entertainer, and on a personal level, he is a dedicated father. "I have a lot of respect for JB, "she says. Life has brought him some tough times along the way, things that JB prefers to speak very little about. His eyes tear up and he politely requests that if this article is to be published, he would like for his personal family affairs to be kept private. While he does not speak about his children, he does enjoy talking about his band and the adventures they have lived throughout the years. Most recently, someone stole the band's trailer with about $150,000 worth of equipment. "You cannot worry about money," he says. "You have got to keep going and things will happen."
Taking a puff from a new cigarette, JB asks about my aspirations, wanting to know a little bit more about the young girl writing a story on him. "You can do anything you want to," he tells me. "When I was a kid, I would spin the globe and place my finger on a destination; eyes closed, and wish to someday be there. I have been everywhere I have wanted to go. It is not money that matters, but the stories you've got." Hot and ready for the road after a two year semi-hiatus, JB has concerts to be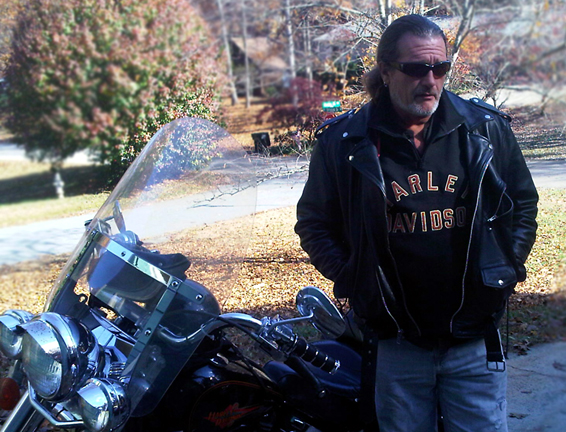 performed as he also keeps busy being involved in charities and by being president of the American Bikers Active Toward Education of Georgia aka ABATE, a politically active organization working for the rights of the motorcyclists.
"I didn't know a damn thing when I decided to make this my career," he says. "I had to teach myself and that was not easy." "It is not the money you have but the stories you've got, and you can do anything you want," he repeats to me as he smiles and takes another puff. "Roll Hard Forever, Forever Roll Hard. Rock On"
His sleeve rises and again the letters that form the word Invictus are revealed. Invictus, Latin for unconquered.
December 2010 N. Gallón - Atlanta, Georgia USA